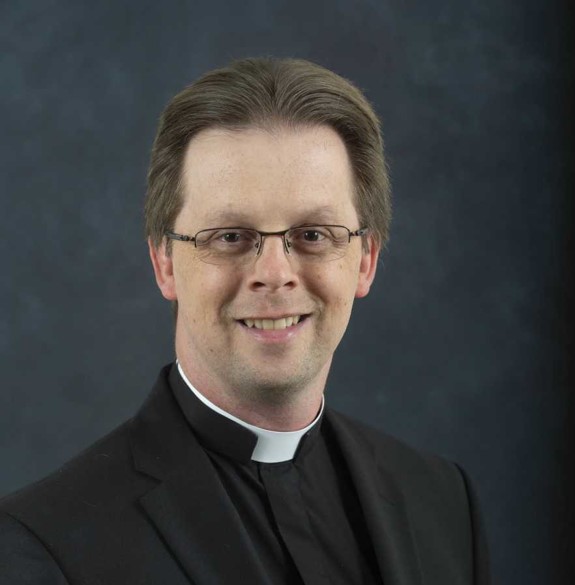 May 9, 2021
Dear Brothers and Sisters in Christ,
Back in the Middle Ages there was an alchemist who was known for his great intellect. We'll call him Justin. He was just too smart for them, so people avoided him – especially, the ladies. Now Justin really wanted to have a wife and family, but how could he convince a fair maiden to marry him? So, being a scientist, Justin set to work on creating an elixir of love. After months and months of meticulous work, he finally had a finished product. Justin did have one friend, an older alchemist; and this friend had a beautiful young daughter. Justin told his friend that he had made a wonderful discovery and would like to show it to him, perhaps at dinner at the friend's house. So, Justin was invited. He brought his elixir. During the meal he made up a story of how he had created a potion that would bring happiness to young maidens. He and the girl's father convinced her to try it.

The girl drank the elixir. Then she began to see Justin through different eyes. After a few months she was open to Justin's proposal of marriage. So Justin married his beautiful girl, and soon they had their own family of three wonderful children. Now you would think that they would live happily ever after, but they didn't. Justin had everything he ever wanted, but he was not happy. In fact, he became more and more depressed. Eventually he became angry, frustrated and mean spirited. Why? Because throughout the years he was plagued with a question. It became an all-consuming obsession. The question he kept asking himself over and over was this: Would she have ever loved me if she had not drank the elixir?

Our society perpetuates the great lie that love can be won through an elixir. The elixir may be becoming a professional who makes a great deal of money. Money is supposed to guarantee that happiness can be bought. Or the elixir might be that having the perfect body will attract lasting love. But the beautiful bodies of the young become the bodies of the middle aged; and those six pack abs become a full keg belly. A good job never won anyone love, and a beautiful body may attract another person but it isn't going to win his or her love.
Today's 2nd reading from the First Letter of John, and the Gospel from John 15 both speak about love, Christian love. Christian love is not forced on a person. It isn't due to an elixir, nor does it come merely from physical attraction, or any other attraction for that matter. Love, true love, lasting love, only results from the Love of Christ; and that love becomes a magnet. If a person loves the Lord, that love itself will attract other people who are seeking the Lord. Perhaps it will attract a person who is looking for someone to make a life with, certainly it will attract many others who are looking for the meaning to life.

I want you to consider St. Teresa of Calcutta. Why were so many people attracted to Mother Teresa? Certainly they felt called to join her in making Matthew 25 a reality: "…when I was hungry you gave me food to eat, when I was thirsty you gave me drink, etc." But there was even more than this that attracted people to Mother Teresa. They were drawn by Jesus' love within her; and like a magnet, that love flowed through her into them, and then they attracted others to Christ. The love of Christ flowed through her into them. It still does.

We have been attracted by the dynamism, the magnetism of Jesus Christ. We know that saying that we love Him is not enough. We have to live His Love. In the Gospel Jesus uses this phrase: "Remain in my love." He tells us that we remain in His Love if we keep His commandments. But Jesus doesn't give a whole list of commandments like Moses did when he came down from Mt. Sinai. Jesus just gives one commandment: Love one another.

That is all that really matters, if we love each other, truly, in the sacrificial love of the Lord, everything else falls into place. St. Augustine put it this way: "Once and for all, a short rule is laid down for you: Love and do what you will. If you keep silence, do it out of love. If you cry out, do it out of love. If you refrain from punishing, do it out of love. Let the root of love be within you. From such a root, nothing but good can come." (From St. Augustine's sermon on 1 John 7).

Jesus Christ is the Elixir of Love. He is the potion that brings happiness. We pray today for the courage to allow his love to flow through us and thus attract others to love as He loves.
Peace,
Fr. Steve