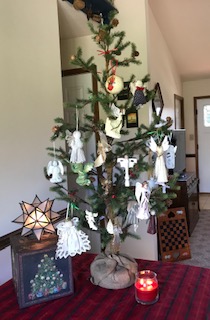 Option #1 ~ A tag from the tree in the Old Social Hall. If you'd like a wish list of ideas in order to gift a youngster. You may buy as many items from the list as you'd like. Pick and choose what you'd like to give from the list, but don't feel like you must buy and give everything on the list! Place the unwrapped present in a gift bag and please use the tag as a label for the bag. These gifts have been requested by CrossNet and Lancaster Intensive Day Treatment School.
Option #2 ~ Choose to purchase items from this general list. These gifts will be shared with residents at the nursing homes ~ St. Anne's, Zerbe's, and Lancaster Nursing and Rehab, and at Thistledown, the co-operative living home at GSV. Items requested are men's and women's pajama BOTTOMS (size L, XL, and XXL); men's and women's front zip and front button sweatshirts and sweaters (size L, XL and XXL); single bed sized blankets or lap blankets; large print word search and crossword books; small sugar-free and regular boxes of chocolates (such as Russell Stover); square boxes of tissues; toiletries ~ toothpaste, deodorant, body wash, and shampoo; fidget pop-its; adult coloring books; colored markers, colored pencils, crayons; picture books such as flowers, animals, scenery. There will be bins near the tree where you may deposit these items. No need to bag or label, just place in the bins!
Option #3 ~ Buy a gift card. Specifically requesting Yoder's and Sheetz gift cards. There will be a box marked "Gift Cards" near the tree where you may deposit them!
ALL GIFTS ARE DUE BACK ON OR BEFORE SUNDAY NOVEMBER 26th!